Starting your ACCA course is a significant step towards a rewarding career in accountancy. In this guide, we'll delve into the eligibility criteria, entry requirements, and various pathways to initiate your ACCA journey. Whether you're a fresh graduate or a working professional, this guide will provide valuable insights to kickstart your ACCA course.
Academic Qualifications Needed
To enroll in the ACCA course, candidates typically need a minimum of three GCSEs and two A-levels in five separate subjects, including Math and English. Additionally, a relevant bachelor's degree can provide exemptions from certain ACCA papers.
Relevant Experience, if Required
While not mandatory, having relevant work experience in the field of accounting or finance can enhance your understanding of ACCA concepts. Some employers may prefer candidates with practical experience, and it can also contribute to meeting the eligibility criteria.
Specific Entry Criteria for ACCA
Each ACCA-approved learning provider may have specific entry criteria. Ensure you meet these requirements, which may include a proficiency test in English if it's not your first language.
Any Exceptions or Alternative Routes
In certain cases, ACCA allows exceptions or alternative routes for entry. This could include recognition of prior learning or exemptions based on other professional qualifications. You can contact Ikka Classes which is one of the leading ACCA coaching centres in India
Advantages of Starting ACCA Right After 12th
Starting ACCA immediately after 12th provides a head start in building a career in accountancy. It allows for a seamless transition from academic learning to professional qualification.
 
Combining ACCA with Traditional Education
Many students opt to combine ACCA with traditional university education. This dual approach enhances both theoretical knowledge and practical skills, setting a strong foundation for a successful career.
Step-by-Step Guide to ACCA Enrollment
Researching and Choosing the Right ACCA Institute
 Begin by researching ACCA-approved learning providers. Consider factors such as reputation, pass rates, and faculty expertise. Choose an institute that aligns with your learning preferences.
The Application Process and Required Documentation
Once you've chosen an institute, follow their application process. Prepare necessary documentation, including academic transcripts and identification documents, to complete the application successfully.
ACCA Classes and Study Schedules
Upon acceptance, familiarize yourself with the class schedules. Create a study plan that balances work, life, and ACCA commitments. Consistent effort is key to success in ACCA exams.
Make your choice wisely
IKKA CLASSES RECENTLY GOT RECOGNISED FOR BEST COURSES IN

ACCA AND FINANCE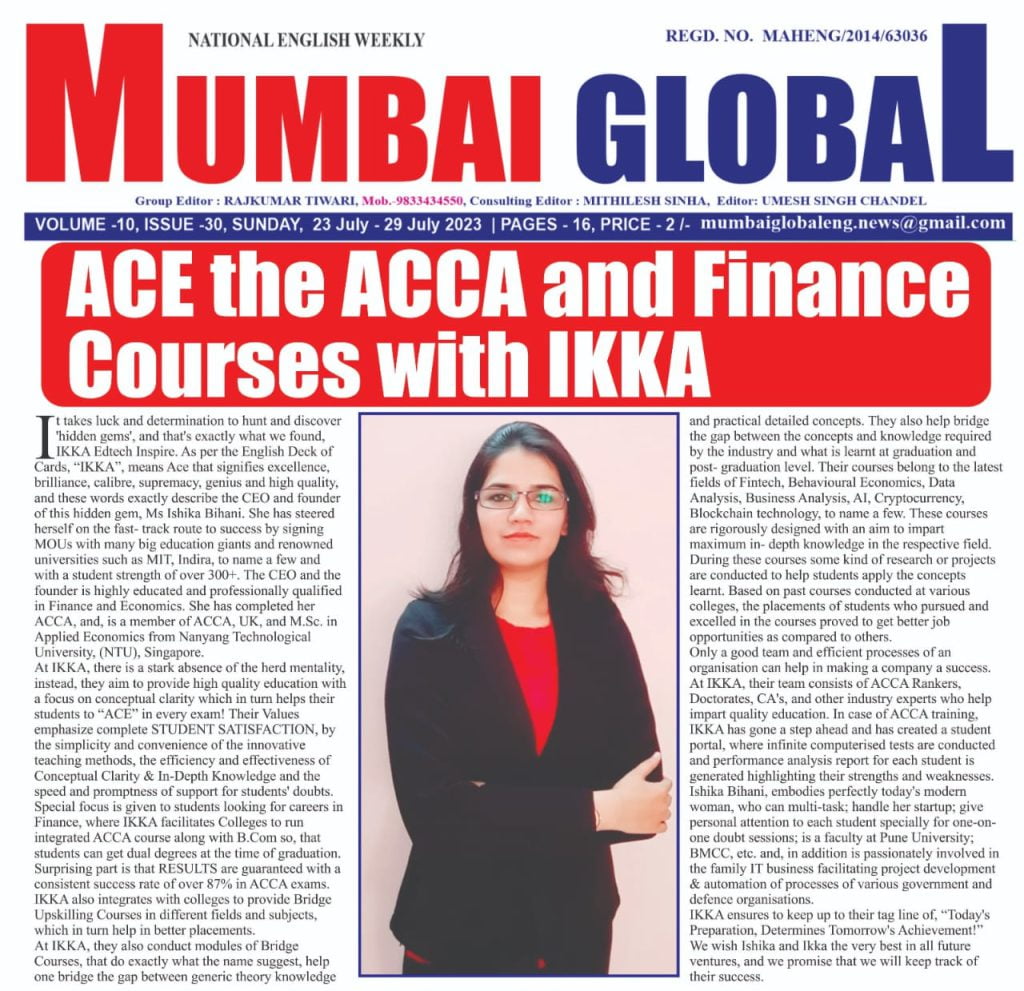 Self-Study Options For ACCA
Recommended Study Materials
Invest in quality study materials, including ACCA-approved textbooks and revision guides. These resources are essential for self-learners aiming for exam success.
Online Resources and Study Groups for Self-Learners
Explore online platforms offering ACCA resources and join study groups. Engaging with fellow learners provides a supportive environment for knowledge sharing and problem-solving.
Transitioning from CA to ACCA
Recognizing the Benefits of ACCA After CA
If you're a Chartered Accountant (CA) considering ACCA, recognize the added value it brings. ACCA widens your global career prospects and offers a broader perspective on international accounting standards.


Subject Exemptions and Streamlined Pathways
ACCA offers subject exemptions to CA qualified individuals, streamlining the journey. Understand the exemptions applicable to leverage your CA qualification efficiently
When Can I Start Studying for ACCA?
These questions often arise for prospective ACCA students. Starting your ACCA journey involves thorough planning and understanding of your personal circumstances. Seek guidance from ACCA counselors and plan your initiation based on your goals and commitments. You can take the help of Ikka Classes which is one of the leading ACCA coaching centres in Pune, India.
Embarking on your ACCA journey is a strategic move towards a successful career in accountancy. By understanding the eligibility criteria, entry requirements, and various pathways, you can make informed decisions. Remember, each step in your ACCA course is a building block toward professional excellence.
Frequently Asked Question on ACCA EXAM